Things You'll Need
Dish soap

Warm water

Sponge

Epoxy resin

Paper towels

Color pigment kit

Clean cloth

Masking tape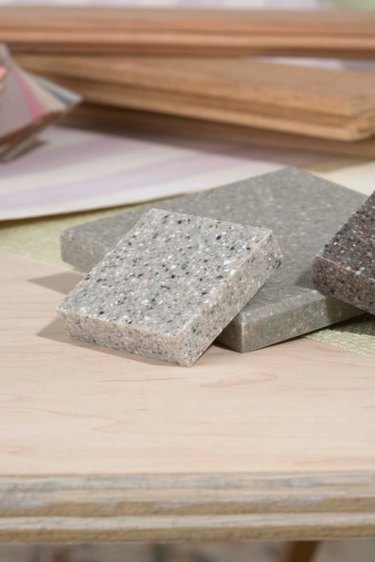 While a granite countertop may be an expensive addition that adds value to your house, broken granite gives your counter an uneven look. The longer you leave the piece off, the more the granite begins chipping, making the problem even worse. An epoxy solution lets you glue the broken piece back onto the counter as long as the broken piece is no larger than a few inches. Larger broken pieces do require a professional.
Step 1
Combine 1 tsp. dish soap with 1 gallon water to make a light cleaning solution. Apply it to the granite counter, focusing on the broken edge. Use a sponge dipped in fresh water to remove the soap; let the granite completely dry. Brush away any excess particles of granite with your hands.
Step 2
Mix the epoxy resin together on a paper towel. Use the color pigment kit to adjust the color of the epoxy until it matches the primary color of the granite or the color of the veins.
Step 3
Apply the epoxy resin to the broken piece, placing a thin layer on all sides that came apart from the counter. Lightly rub the epoxy over the broken piece until it completely covers the broken edges. Place the broken piece back onto the counter, fitting it back into its original spot.
Step 4
Press against the granite for a minimum of five minutes, giving the adhesive time to secure the two pieces of granite. Wipe down the granite with a cloth dipped in water to remove any epoxy that slips out of the cracks or any spilled epoxy.
Step 5
Cover the broken edges with pieces of masking tape to keep the granite pressed together overnight. After 24 hours, lightly press down on the granite to check the strength of the epoxy. You may need to wait another day for the epoxy to dry completely.
Tip
If there's a gap between the broken piece of granite and the counter, you may need to apply more epoxy or use colored wax to fill in the gap and hide the problem. If a large piece of granite broke off, the broken granite supports the counter's weight or the piece is too big to hold, hire a professional for the job. Professionals use metal rods placed in the granite to hold the pieces together.