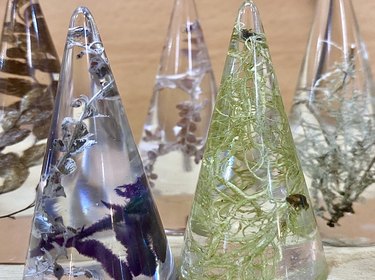 Resin is a thick, liquid compound that can be natural or synthetic. Natural ones are yellowish to brown, transparent or translucent, and they are usually flammable and fusible. Resins form through plant secretions and are soluble in organic liquids but not water. Synthetic resins have some of the same properties but are different chemically; they are more similar to liquid plastic.
Epoxy resin is created when a liquid resin mixes with a hardener. This action creates heat, and the material gets converted from a liquid to a solid, cured state. It is nonporous and very durable, and is well suited for all kinds of different projects. Some include jewelry making, soil sealing, stone repair, art projects and repairing and gluing together tiny parts. You can use epoxy resin on wood, glass, metal, fabric, ceramic, stone and concrete. It will not stick to anything with a greasy surface, like polyethylene plastics, freezer paper, wax, silicone or painter's tape.
You should also consider the resin's thickness. High-viscosity epoxy resin is gellike and creates shiny, rich appearances but takes longer to use. They are often referred to as laminating resins and are well suited for coating surfaces. You won't want a layer to be more than 1 to 2 centimeters thick in most cases. Lower-viscosity epoxy resins are more like liquids and are easier to apply. They dry faster and can be applied in layers. Remember that the thinner your resin, the longer it will take to harden, and it could take as long as 24 hours.
All About Polyurethane Resin
Polyurethane resins are synthetic resins that have two-component systems using a combination of resins and hardeners. You can mix epoxy resins with colorants and filling materials to get the desired results. Synthetics are thinner than epoxy resins, making them very easy to mix; they also work very well in molds. These resins also harden quickly and are easy to get out of molds. Other good features include high stability, only a small amount of shrinkage after curing and high heat resistance.
The downside of the polyurethane resin is its high sensitivity to moisture, which can cause it to foam. It is also sensitive to UV light, but you can mix some additives for that. Its adhesive properties are not as strong as epoxy resin either. These resins also pose the risk of being a potential health hazard from the styrene odor, so wear safety gear when working with these epoxies.
Resin Precautions and Other Considerations
Epoxy resins have chemicals that can be toxic if you don't take safety precautions. Some may release irritating smells and harmful fumes when the products are opened, mixed and applied. Be sure to work in well-ventilated locations and wear safety glasses, breathing protection and gloves. If this sounds too scary, shop for epoxy resins that are nontoxic, BPA-free and odor-free.
Polyurethane resin is frequently used in industrial buildings, like car workshops. It is an excellent floor covering because of its elasticity and abrasion-resistant properties. You'll find that these resins are inexpensive, easy to apply and strong enough to handle heavy loads, like machinery sitting on the covered floors. When UV-resistant additives are added to low-viscosity epoxy resins, you can use them for outdoor projects. No matter what kind of resin you use, read the manufacturer's label to see how to use it and find out how long it takes to harden.