Things You'll Need
Cricut machine

Cricut vinyl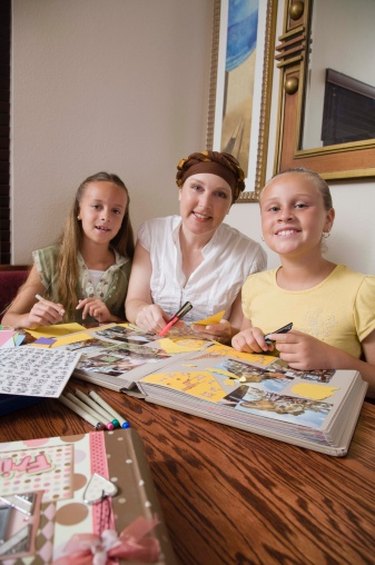 Cricut machines are personal cutting systems that use digital cartridges to program the machines to cut out different shapes. The machine is particularly popular among scrapbookers, who appreciate having many shapes programmed into a cartridge that costs about the same as individual dies for die-cutting machines. Cricut can't cut as many materials as a die-cutting machine, but it can cut very intricate shapes into the materials with which it is compatible, including sheets of vinyl in many different colors. This vinyl is adhesive-backed and suitable for myriad projects, including home decor, signs and scrapbooking. With imagination and hard work, you can make enough money with Cricut vinyl to pay for your machine and accessories many times over.
Step 1
Design marketable projects. Read craft magazines and websites for ideas. Browse discussion forums for inspiration too, as members often post photos of their finished projects. Some forums even have message threads for craft fair vendors to compare notes about what sells and what doesn't. Maximize your profit potential by choosing projects that are fast to complete and that use as few supplies as possible. Consider projects that mix Cricut vinyl with other, less expensive materials.
Step 2
Teach a class. Contact managers at local craft stores and offer to teach a class about making one of the projects you've designed. Propose that the store market your class to customers so that it will profit from the sale of Cricut machines, vinyl and other Cricut products while you keep the fee charged to attendees. Price the class according to the cost of materials plus your profit. Plan incentives like Cricut wish list mailings to attendees' families as a thank you to the store for hosting the class.
Step 3
Sell the finished Cricut vinyl projects. Choose any one of the many outlets available to crafters, from online auctions to Internet craft stores to classifieds websites. Rent tables at local craft fairs, too. Although craft fairs are most common before the spring and winter holidays, it's not unusual for festival planners from schools, houses of worship and community organizations to rent tables to craftspeople and other vendors.
Step 4
Sell pieces of your Cricut vinyl projects as kits for crafters to complete themselves. Target people who love to craft but who lack the time or focus to do projects from start to finish. Write clear instructions for putting the project elements together. Sell the kits through the same venues as finished projects.
Step 5
Blog about your Cricut vinyl project ideas and finished projects, and about your crafting life in general. Attract readers by giving away simple project ideas, but charge a small fee for more complicated ones. Monetize your blog by participating in advertising programs that display ads on your site or by signing up as an affiliate with craft stores and craft product manufacturers and writing about their products.
Tip
Check with the manufacturers of products and publishers of project instructions you use to make sure they have an "angel policy" that gives users the right to use the products for commercial gain.