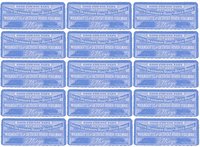 If you are planning an event, such as a fundraiser, yard sale or school carnival, you can make the event seem more professionally organized by handing out event tickets. Although you could have tickets printed at a screen printing company, you might not want to spend money on that service. One solution is to make your own event tickets using your computer and printer. Once finished, you can cut out the tickets, and hand them to the patrons.
Things You'll Need
Computer
Graphics program
Open a graphics program on your computer.
Click on "File" in the upper left-hand part of the screen, then click "New" when the list drops down. A new window will appear requesting dimensions.
Type in 12 inches for the height, 15 inches for the length, and 300 DPI for the resolution. Click "OK" to see your new image file ready for customization.
Apply columns and rows onto your image by clicking "Edit" at the top of the screen, then clicking "Format".
Select "Columns and Rows" from the drop-down list. A pop-up window will appear.
Type in the number of columns and rows you need. Columns will be vertical, and rows will be horizontal. Click "OK" to see the grid appear on your image.
Add color to the tickets by clicking on the paint bucket icon inside the Toolbox, located to the right of the screen in a vertical box.
Double click on the color swatch and select the color you want on the tickets.
Click on your image, and the color will be applied.
Add text to your tickets by clicking on the capital "T" inside the Toolbox.
Click and drag a marquee box onto the area where you want text, then click inside the box to begin typing. Repeat with each area you want text to appear.
Alter the text by using the text tools at the top of the screen. This will allow you to change the font, color and size of the text.
Print out your event tickets by clicking on "File" and selecting "Print" from the drop-down list. A pop-up window will appear.
Select the number of pages you want to print out, then click "OK" to print them out.
Cut out the event tickets with scissors.