Chana Masala, or chickpea curry, is a weekend favorite in most Indian households, and every region in India prepares the dish with its own array of spices. You can enjoy the North Indian version on a lazy Saturday or Sunday by layering the namesake ingredient with a few rich flavors like cinnamon and cumin. Pair the fragrant dish with rice, baked naan, salad and pickles, and you'll have a feast — and a new weekend tradition — to enjoy.
Things You'll Need
1 cup dried chickpeas, soaked overnight

1 medium-large red onion, chopped

1-1/2 large beefsteak tomatoes, chopped

6–7 garlic cloves, minced

1-inch ginger piece, grated or minced

3 green chillies/ serrano peppers (optional)

1/2 teaspoon turmeric

1/2 teaspoon chilli powder

1 teaspoon ground coriander

1 tablespoon channa/chole masala

1-inch cinnamon stick

1 bay leaf

1 black cardamom pod

1 teaspoon cumin seeds

2 tablespoons canola oil

1/3 cup cilantro, chopped

1/2 lemon, juiced

Sliced red onion (optional)

Salt to taste
Step 1: Soak the Dry Chickpeas Overnight
This recipe uses dried chickpeas, which need to be soaked in ample water for 6 to 8 hours. If you're using canned chickpeas, ignore this step and reduce cooking time by an hour.
Step 2: Toast the Initial Ingredients Until Fragrant
In a pressure cooker or a heavy-bottom pan, like a Dutch oven, heat oil on "medium-high." Add the cinnamon stick, bay leaf, black cardamom and cumin seeds. Let them toast until they are fragrant.
Tip
A pressure cooker is not needed if you are using canned beans.
Step 3: Cook the Chopped Onions
Add the chopped onions and cook until they're almost golden, or for 12 to 15 minutes. Stir occasionally to prevent the onions from burning. Then, pour in the minced ginger, garlic and (optional) green chili, and stir for 30 seconds.
Step 4: Drop the Tomatoes and Spices in
Add in the chopped tomatoes and the remaining spices, including salt to taste, and stir well. Let the tomatoes break down until oil appears on the edges of the mixture.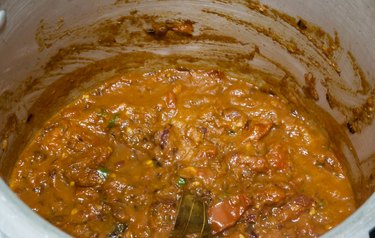 Step 5: Toss in the Chickpeas
Now, add the chickpeas with about 3 cups of water. Close the lid of the pressure cooker and let the mixture cook on "high" until you hear the pressure cooker whistle. Then, let it continue to cook for another 30 minutes on a "medium-low" flame. When it's time, be sure to let the steam completely escape from the cooker before opening the lid.
Tip
If you're using a pan, let the mix come to a boil. Then cover with a lid and let it cook on a "medium-low" flame for an hour. To check if the beans are done, press one between your fingers. It should be slightly mushy.
Step 6: Garnish and Serve
Garnish the dish with cilantro leaves and lemon juice. Serve on its own or with naan and steamed basmati rice. Eat it while it's hot!