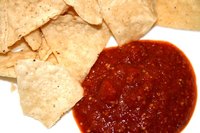 Of the many different recipes for salsa, each yields salsa that has a different consistency. It can be difficult to achieve the right consistency when you make salsa, but you do not have to be disappointed with thin salsa. If your salsa appears too thin, you can thicken it with cornstarch. You cannot simply add cornstarch directly to the salsa. The cornstarch must be made into slurry, and then heated to achieve the desired consistency.
Things You'll Need
Place 1 tbsp. of cornstarch in a bowl for every cup of salsa that you want to thicken. Add an equal amount of water to the bowl and stir to form a paste.
Place the salsa in a saucepan on the stove over medium heat. Bring the salsa to a simmer.
Whisk the cornstarch paste into the salsa. Stirring continuously, heat the salsa for 30 seconds to 1 minute.
Bring the salsa to a boil and then reduce the heat to bring it back to a simmer to remove the starch taste. Boil the salsa for 1 minute and then remove it from the stove.