Sure, you can easily buy versions of tomatillo salsa at the store, but nothing compares to a fresh batch made in your own kitchen. The great thing about this recipes is that you can make it as mild or as spicy as you like; simply taste as you go. Serve with chips or over eggs; either way, nothing beats having fresh salsa on hand!
Things You'll Need
1 lb tomatillos, husks removed, rinsed and dried

1–2 serrano chilies

1/2 small white onion, roughly chopped

3 garlic cloves

1/3 cup cilantro leaves

Salt, to taste

A few pinches of sugar (optional)

Medium skillet

Blender or food processor
Step 1
Set a dry skillet to medium heat. Once the pan is hot, add the tomatillos, serrano chile, and the garlic cloves.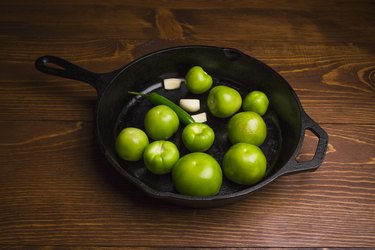 Step 2
Cook the tomatillos, chile, and garlic for 10–12 minutes, or until softened and blistered. Make sure to rotate ingredients a few times to get an even blister. Keep an eye on the garlic and remove it from the skillet once it has a bit of color.
Tip
Be careful not to overcook the garlic, as overcooked garlic will give it a bitter taste.
Step 3
Add the blistered tomatillos, serrano chile (with top removed), garlic, onion, and cilantro to a blender or food processor, and blend until smooth or slightly chunky, if preferred. Add salt to taste. If the salsa is a bit sour, add a few pinches of sugar.
Tip
If you aren't a big fan of spicy salsa, add the serrano chile in increments to control how spicy you want your salsa to be.
Step 4
Pour the salsa into a container and allow it to cool in the refrigerator before serving. Store in an airtight container for up to seven days.