Things You'll Need
Stock (substitute water, if desired)

Cornstarch

Medium mixing bowl

Mixing spoon

Whisk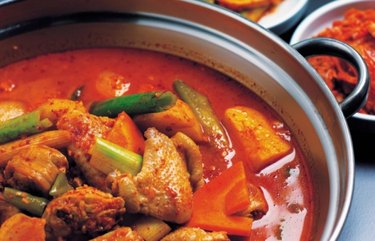 When making stew, many people find they need to thicken the soup to create a heartier consistency. Unlike broth-based soups, stews are synonymous with chunky pieces of food and a rich, hearty liquid. Once the stew has been prepared and cooked, you may find the liquid is too dense. There are many thickeners that can be added to a stew to change the consistency. A popular thickening agent is a cornstarch slurry, made with cornstarch and stock.
Step 1
Chill stock in refrigerator for one hour. Remove chilled stock and pour one quart into medium mixing bowl. Add 3 oz. cornstarch to the mixing bowl.
Step 2
Mix ingredients together with a mixing spoon until well blended and no lumps remain. Whisk ingredients together for two minutes or until a paste begins to form. Continue whisking paste vigorously until it reaches the consistency of a thick slurry. Add more cornstarch or water, as necessary.
Step 3
Drop a large spoonful of slurry into the stew and stir the stew well until the slurry is completely absorbed. Return the stew to a simmer and allow the slurry to thicken for five minutes. Continue adding slurry and stirring until the stew reaches the desired consistency. Discard unused slurry.