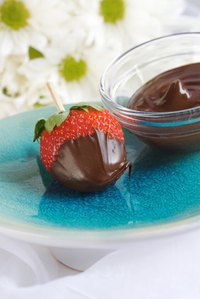 Chocolate fondue can be the star of the party when paired with fruit or as an accompaniment to another delectable dessert. While there are varying recipes for chocolate fondue, the key is to attain a smooth fondue with the right consistency. Chocolate fondue for dipping fruit, pretzels and cheese requires a thicker consistency than a chocolate fondue fountain. In the event your chocolate fondue fails to meet your standards, you can easily thicken it without compromising taste.
Things You'll Need
Small saucepan
2 ounces chocolate
Small bowl
2 tablespoons cornstarch
2 to 4 ounces of whipping cream (very cold)
Spoon
Whisk
Place the saucepan over low heat and add chocolate. Stir until the chocolate is melted, then immediately set the saucepan off the burner.
In a small bowl, add the cornstarch and very slowly add the whipping cream, whisking continuously. Stir with the whisk until there are no lumps.
Pour the cornstarch-whipping cream mixture into the saucepan and whisk together thoroughly until the combined ingredients are one color.
Place the saucepan back on the burner over medium-low heat and whisk as the chocolate mixture begins to heat. Once the chocolate has thickened significantly, slowly add the original fondue to the thickened chocolate until the desired consistency is achieved.
Discard or refrigerate remaining fondue to reuse or thicken at a later time.