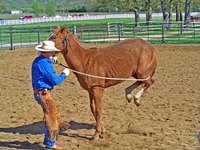 Rodeo chaps are the traditional leg covering that cowboys wore over their pants to protect the their legs from thorns, grass and other shrubbery. The most difficult part about making chaps is making sure your sewing machine can handle the tough leather. Use a sewing machine with a walking foot and a tough leather needle for easier sewing.
Things You'll Need
Soft leather
Thick wool thread
Leather needle for sewing machine
Sewing machine with walking foot
Leather sewing machine (optional)
Fabric measuring tape
Leather belt
Parchment paper
Pencil
Pattern weights
Chalk pen
Rotary cutter
Thimble
Butterfly clips
Leather tassels (optional)
Measure the length of each leg starting from just below the ankle and measuring to the waist where your belt sits. Measure all the way around the leg. This will make the width of the chaps. Create a rectangle pattern using these measurements on a piece of parchment paper. Add an extra inch to the length for a seam allowance.
Lay the pattern over the leather. Use pattern weights to hold the pattern in place. Draw around the pattern with the chalk pen. Cut out the pattern with a rotary cutter. Make one chap for each leg.
Fold a ½ inch of the leather over at the bottom edge to make the bottom hem. Weight the hem down with pattern weights to hold the fold in the leather.
Attach the leather needle to the sewing machine. Thread the needle and sewing machine with the wool thread. Place one folded chap seam under the needle. Sew the hem closed with two lines of hemming to hold the hem securely in place. Repeat for the other chap.
Wear the belt. Use butterfly clips to attach the chaps to either side of the belt. The chaps should hang over the outside edges of your legs, draping over your ankles and nearly covering them. Remove the belt.
Sew the chaps to either side of the leather belt by hand. Use a leather needle and thick thread to attach the chaps to the inside of the belt.