Things You'll Need
Electric sander

Tape measure

Wood trim

Pencil

Wood glue

Screws

Screwdriver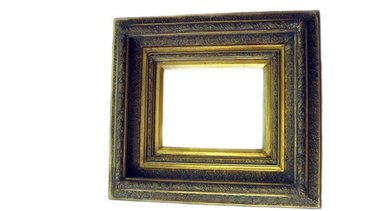 Framing around a breaker box can be the perfect solution for hiding your breaker box. The breaker box is an important electrical component in the home. Sometimes it can fit in oddly with the home interior design. You can frame it, making it blend in with the rest of the home decor. With a few basic steps, you can create a more appealing look for your breaker box. Use these step-by-step instructions to frame around it with little effort.
Step 1
Sand away rough areas where the frame around your breaker box will go. Use an electric sander to make the process easier.
Step 2
Measure the width for the frame, starting from the left side of the wall to the right side. Measure the length from top to bottom. Make a note of the measurements.
Step 3
Mark the measurement on the wood trim, then cut it with a miter saw. Cut four pieces of trim--two for the top and bottom width and two for the sides.
Step 4
Lay the pieces of cut trim on a flat surface to ensure that they are evenly cut. Attach the pieces in the form of a frame using adhesive. Firmly press the corners of the frame together, then allow them to dry for 4 to 8 hours. Use a screwdriver to attach the frame around the breaker box using screws.
Step 5
Paint the frame for your breaker box with a color that will match your home's interior.
Tip
Add a hinged door to your shadow box-style frame to completely camouflage your breaker box.
Decorate your hinged door with attractive art or a photograph -- already framed, once in place.
For a laundry room or rustic bathroom, attach a hinged washboard to the front of your frame.