Things You'll Need
Wire brush

Flat trowel

Sponge

Surface-bonding cement

Primer

Latex paint

Roller

Paintbrush

Adhesive

Caulking gun

Beadboard

Drill

Self-tapping screws (length dependent on beadboard)

Utility knife

Broom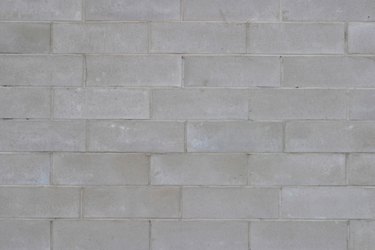 Cinder blocks are one of the most common types of building materials used in the construction of foundations for homes and office structures. A durable and affordable material, cinder blocks are nevertheless aesthetically bland. Materials such as paint or wood paneling can be applied to the surface to create a finished look. Covering cinder-block walls allows for a cleaner, more attractive appearance depending upon the owner's preference.
Step 1
Clean the surface of the cinder block foundation to remove excess concrete, dust and debris. Use a wire brush to smooth the joints between the blocks, and a broom to clear the entire surface of the dust.
Step 2
Mix the surface-bonding concrete according to the manufacturer's instructions. Wet the wall down with a damp sponge prior to applying the concrete. Smooth the surface-bonding concrete over the entire section of the foundation you wish to cover, using a flat trowel. Allow the concrete at least 24 hours to dry before applying any additional finishing materials.
Step 3
Lightly scrape over the surface of the concrete with the trowel to remove any burrs or imperfections on the surface. Apply a layer of primer according to the manufacturer's instructions and allow it adequate drying time prior to painting the surface. Use a paint roller for the large spaces and a paintbrush for the corners. Apply several layers of paint using the same application method as the primer.
Step 4
Layer the wall with beadboard -- a grooved paneling similar to wainscoting -- if a painted finish is not an appealing look. Apply construction adhesive with a caulking gun to the back of the beadboard. Place it against the wall and use the flat trowel to press the surface of the beadboard against the wall so the adhesive spreads out between the two materials. Make any necessary cuts into the corners or around windows, using a utility knife. Use a drill and screws to fasten the beadboard to the wall.
Tip
In addition to beadboard and paint, you can also install ceramic tile or natural stone, hang wallpaper or tapestries, or add any number of materials over the concrete foundation to finish it out as you see fit.