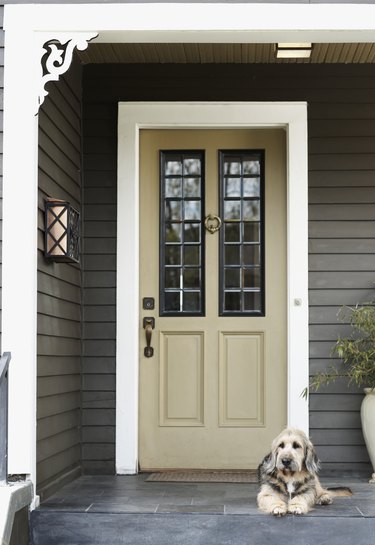 Your front porch is one of the first impressions your guests have of your home. If your porch is a drab, gray concrete slab, you may be ready to give it a facelift. A concrete resurfacing compound is sufficient for covering minor cracks, providing a smooth surface. However, to add more color and design to your entryway, consider other resurfacing options that create the appearance of tile, natural stone or wood.
Resurfacing Compound
A basic concrete resurfacing compound applied to your existing porch covers cracks and imperfections, creating a renewed concrete look. The compound can only be used on surfaces that are structurally sound. An integral color added to the resurfacing compound gives it a more decorative look. If you prefer, apply a concrete stain over the surface before sealing it. Sealing the porch with a breathable concrete sealer reduces the possibility of damage from weathering.
Concrete Staining
A front porch that is in good condition with no structural damage can be resurfaced by concrete staining. This resurfacing revitalizes the concrete by applying color to the existing surface. Acid-based stain penetrates the porous cement, producing neutral tones in browns, terracotta or light blue-green. The stain creates a translucent, variegated appearance resembling marble, natural stone or wood. Because the stain penetrates the surface, it will not chip or peel off. Water-based stains are available in a broader range of colors that produce more intense tones. The water-based stains create colors that are opaque and more uniform. An application of a surface sealer suitable for outdoor use protects the stained porch.
Concrete Overlay
A concrete overlay allows you to cover the drab cement surface of a porch. As with other resurfacing procedures, the concrete slab needs to be sound. A stamped overlay replicates the look of natural stone, brick, slate or wood planks. Color can be added to the overlay to complement the colors of your home. An overlay will add as much as ¾ inch to the level of your porch.
Interlocking Tiles
Interlocking tiles are a simple solution to give your concrete porch a facelift. The tiles come in a wide range of styles and designs, including porcelain tile, slate, stone and wood looks. No surface preparation is required. The interlocking tiles are laid directly on the concrete porch surface without the need for adhesives or grout. They can be cut with a handsaw or jigsaw to fit around posts. Strips are added to the outside edges for a professional look. Once the tiles are in place, your job is finished, and your porch is ready for use.