Things You'll Need
Broom

Grease-cutting liquid cleaner

Scrub brush

Mild household detergent

Garden hose

Etching compound

Pump sprayer

Concrete sealer

Paint roller with 3/8-inch nap roller cover

Roller extension pole

Roller tray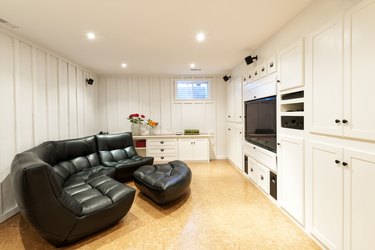 A basement sealer prevents moisture infiltration from beneath your home that may result in excess humidity, mold and mildew. At the same time, it makes your downstairs area more livable and helps maintain good air quality throughout the home. Sealing the concrete is also a necessary first step before applying vinyl tiles or carpeting on your basement floor.
Step 1
Remove all items from floor. Sweep up any dust, dirt and debris from the surface.
Step 2
Apply a grease-cutting liquid cleaner to any stained area of the concrete, then scrub thoroughly until the stain has been removed.
Step 3
Wash down the floor with a mild household detergent, rinse thoroughly with a garden hose and allow the concrete to dry completely.
Step 4
Etch the concrete using an environmentally safe muriatic acid alternative. Apply the etching compound to the entire floor using a garden pump sprayer.
Step 5
Rinse off the etching compound with water from a garden hose once its action is complete -- usually within 15 minutes of application -- and allow the floor to dry completely. Check the manufacturer's instructions for the exact working time required for the etching solution.
Step 6
Apply a thin coat of low-odor water-based concrete sealer to the floor using a paint roller that's attached to an extension pole. Allow the sealer to dry completely based on the manufacturer's instructions.
Step 7
Roll on a second thin coat of concrete sealer to the floor, applied in a perpendicular direction to the first coat. Allow this coat to dry completely before walking on the basement floor.
Tip
If the manufacturer's directions for the sealer state that the concrete does not require etching prior to application, you can skip Steps 4 and 5.
The floor can also be etched using muriatic acid, but that etching solution requires many more safety steps, and the compound must be neutralized before applying the sealer.
Do-it-yourself concrete sealers will not prevent radon infiltration. Contact an abatement professional if radon has been detected in your basement.
Warning
Sealing the concrete is not a suitable first step for installing hardwood flooring.