Things You'll Need
Pressure washer (optional)

Scrub brush

Broom

Dust mask

Concrete paint

Concrete sealant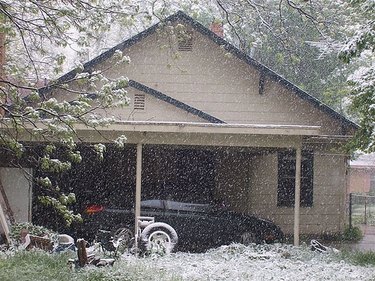 Tire tread marks, oil stains and dirt can make a concrete carport an eyesore. Give it a new lease on life by painting it. Painting concrete is different than painting walls, so you will need to properly prepare the concrete and purchase paint specifically made for it.
Step 1
Thoroughly sweep and clean your carport to prepare it for painting. Use a pressure washer to help you remove grime from the floor, then scrub the carport with soap. Consider using a concrete degreasing solvent to remove stains.
Step 2
Let the carport dry for several hours before painting.
Step 3
Use a suitable concrete paint and rollers to apply the first coat. Follow the manufacturer's recommendations. Always wear a dust mask when painting.
Step 4
Use a paintbrush to cover corner areas that you weren't able to reach with the roller.
Step 5
Apply a second coat of paint (recommended) after the first coast is dry to the touch.
Step 6
Consider applying a concrete paint sealant to your newly painted carport floor. It will increase the durability of your paint.
Step 7
Let the paint and sealant dry for 24 to 48 hours before driving your vehicle on it.
Tip
If your concrete is new, make sure you allow it to cure for one month before painting it.
Warning
If you don't apply a sealant, more frequent maintenance and touch-ups will be required to keep your concrete carport in good condition.