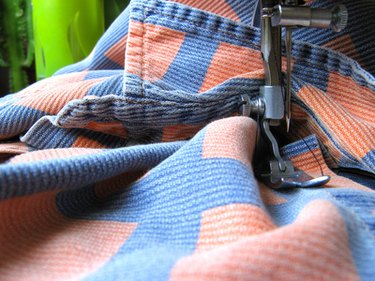 The Singer Touch & Sew machine from the 1970s is an amazingly versatile machine still appreciated by Singer enthusiasts. Many of the features were state-of-the art at the time of their introduction. For example, the 700 series featured automatic needle threading and the "wind in place" bobbin. Other features included disks for special stitch patterns and flexi-stitch for knits. For those who have always had to take the bobbin out of the machine for threading, this machine is a novelty. However, it only takes a few minutes to learn and appreciate the convenience.
Step 1
Slide the slide plate located beneath the needle toward you to open it. This exposes the bobbin. Be sure the bobbin is empty and remove any bits of thread still attached.
Step 2
Check to be sure the buttonhole dial, located on the front of the machine, is in the "off" position. Also have a straight stitch or general purpose presser foot in place. Set the two dials in the front center of the machine, the "needle position" dial and the "stitch width" dial to "straight stitch." This will be marked by black triangles on the dials.
Step 3
Raise the presser foot, and raise the needle to the highest point.
Step 4
Push the bobbin button to the left to move the bobbin into winding position. This is a white button just to the left on the bobbin case. Pull the thread from the threaded machine needle under the presser foot and wrap it around the screw that holds the presser foot assembly. Run the machine.
Step 5
Pull the end of the thread off and away from the screw after the bobbin has a few wraps around it. Discard this loose end of thread. Watch the bobbin as it fills and do not let it fill beyond the "full" circle marked on the bobbin.
Step 6
Close the slide plate to release the wind button. Pull the bobbin thread to the back and trim both the bobbin and needle thread evenly. The machine is ready to use.