Things You'll Need
Bamboo

Napkin liner

Glue

Ice pick or screw driver

Matchsticks (optional)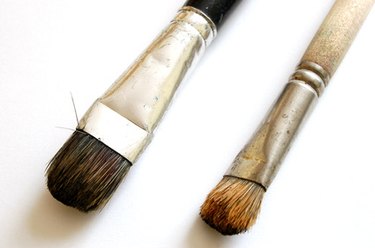 Human hair paintbrushes are a sustainable way to create beautiful works of art. Whether you use your own hair, your family's hair or hair from the local barber shop, you will never run out of this renewable resource. Your bamboo brush handle is also a sustainable resource that is easy to obtain and easy to grow. When you make your own paintbrush, you also reduce the emissions used to create and ship a manufactured paintbrush.
Step 1
Lay the hair in pieces on the napkin liner, allowing it to lay over the edge of the liner. Make sure the cut ends of the hair are inside the liner because the uncut ends will hold pigment better than the cut ends.
Step 2
Drizzle a generous amount of glue on the hair in the napkin liner and roll the liner tightly.
Step 3
Place the hair and liner in the bamboo. You may need an ice pick or screwdriver to force the hair and liner into the bamboo. Make sure the hair and liner are secure in the bamboo and insert matchsticks into the bamboo with the hair to make it tighter if necessary.
Step 4
Allow the brush to dry overnight. Do not use the brush before the it is completely dry.
Tip
Wash your brush completely after every use and allow it to dry thoroughly. Proper care will extend the life of your hair paintbrush.