Things You'll Need
Package of red or auburn temporary hair dye

Large comb

Large bun-maker hair clip (such as Bump-Its)

Hair curler or long roller

Package of bobby pins

Container of clear hair styling gel

Can of hairspray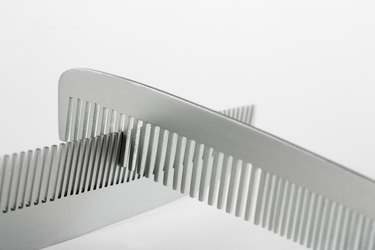 If you are a true Flintstones cartoon fanatic, why not show your true pride this Halloween. Fred and Wilma make a perfect couples costume for Halloween. If you want to go the extra mile and create perfect "Wilma-like" doo with your own hair, it is actually not that difficult. You only need a few items, and relatively long hair to complete the look.
Step 1
Dye your hair with the hair dye according to the package directions.
Step 2
Comb your hair thoroughly making it as straight as possible.
Step 3
Draw your hair back into a bun using the bun clip. Leave about six inches of your hair out to be curled.
Step 4
Using the curling iron, curl your hair in the front into a tight roll. Or, use the long roller to make a tight roll in the front.
Step 5
Use the bobby pins to hold the hair on the side of your head in place tightly.
Step 6
Use the hair styling gel over the top and sides of your hair to give it a strong hold. Do not place any gel on the bun.
Step 7
Spray your new hairdo with hairspray for added shimmer.
Tip
You must have long hair to be able to do this project. If your hair is very short, then it may be best that you use a wig.
If you do not want to use hair dye, there are commercial sprays that you can use to color your hair safely that can be removed with water.
If you want assistance with some of the steps of this project, ask your hairdresser for help. Your hairdresser may be willing to help you with everything (for a fee of course).
You may want to print a picture of Wilma to reference as you complete this project.
Warning
Be very careful with the curling iron. If you are not experienced in using one, ask a friend or family member for help. Or, use the rollers.