Things You'll Need
Tarp or dropcloth

Rags

Sandpaper (120 grit)

Chalkboard paint

Mini roller

Mini paint tray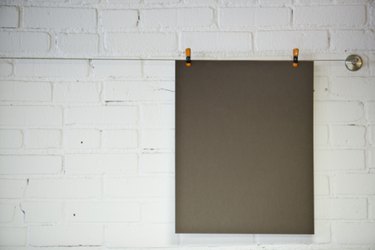 Chalkboard paint, available at most home improvement and craft stores, allows you to transform just about any surface into a functioning chalkboard. From walls to wood pieces, ceramic piggy banks and even vases, chalkboard paint works on a number of different surfaces. Chalkboards are perfect for children because they allow them to decorate and design, wipe away and design again, giving them unlimited ways to be creative. Although chalkboard paint is easy to apply, getting a smooth surface is key to creating a durable, quality chalkboard.
Step 1
Create a clean workspace. If you are painting your chalkboard outside, you will want to make sure that your painting area is free of dust or debris that may land in the wet chalkboard paint. If you are painting inside, cover your workspace with a tarp or dropcloth to prevent the chalkboard paint from dripping onto your table or floor.
Step 2
Make sure that the surface of the item you plan to paint with chalkboard paint is completely clean and dust free. If you are painting a plastic or ceramic item, wipe it with a damp cloth to ensure the surface is smooth and clean. If you are painting on a wood surface, use the sandpaper to smooth out any rough surfaces. The key to getting a smooth chalkboard surface is to start with a smooth surface, so the cleaning and sanding process is essential.
Step 3
Open the chalkboard paint can and pour enough paint into the tray so that you will be able to coat your mini roller. Don't over pour paint or you will have a hard time removing the excess paint on the roller. Run your roller through the paint and roll the excess paint of the roller.
Step 4
Roll your item with the chalkboard paint. Roll evenly and in opposite directions to ensure the coverage is consistent. Cover the entire piece with chalkboard paint, redipping the roller into the paint when necessary. When your piece is covered entirely, let dry completely. If the surface is not smooth when dry, take your sandpaper and smooth out the rough areas, then reroll the area and let dry again.