Things You'll Need
Rubber mat

Elastic straps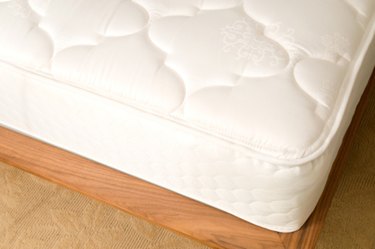 If you're a restless sleeper, you've probably woken up to frequently find your mattress has moved during the night. Mattresses can easily slide around on the box spring and this problem is perpetuated if you do a lot of tossing and turning while sleeping. While not inherently dangerous, the sliding mattress can be annoying and luckily the problem is very quickly solvable. Preventing a mattress from slipping can be done in seconds.
Step 1
Place a rubber mat underneath the mattress between the mattress and box spring. This will result in more friction on the underside of the mattress since the rubber mat will grip at it and help prevent it from sliding.
Step 2
Wrap rubber straps around the mattress and box spring to hold them together before adding sheets to the mattress. Bands on the head and foot of the bed will hold the mattress and prevent it from slipping off.
Step 3
Move the bed against a wall. This limits the direction the mattress can slip. If the mattress is in a corner of the room, it is unlikely to slip much.