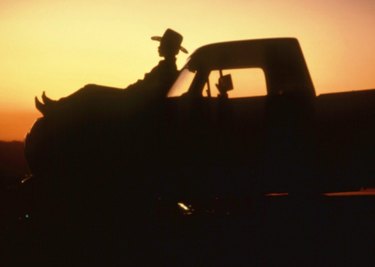 The 1967 to 1972 Chevrolet pickup trucks received the nickname "glamour trucks" for their understated timeless styling, exceptional engine power and car-like amenities in the cab. Many Chevy pickups from this era remain on the road today.
Under the Hood
The 1967 Chevy pickup models featured four engine choices: the 155-hp, 250- and 175-hp 292-cubic-inch in-line six-cylinder and 235-hp 283 and 275-hp 327 V-8s. The 292 six and 327 V-8 were options. The 250 six and 283 V-8 were standard equipment. Chevy dropped the 283 in 1968 and replaced it with the 307 V-8. Chevy also added the massive big-block 396 V-8 as an option, but replaced it in 1969 with the 400 V-8.
Size
The half-ton 1967-to-1972 Chevrolet trucks had a 115-inch wheelbase with a 6.5-foot cargo box. The three-quarter ton models sat on a 133-inch wheelbase with an eight-foot cargo box. A nine-foot bed was also available on the 133-inch wheelbase versions.
Suspension
Half- and three-quarter ton 1967-to-1972 Chevy pickups featured independent front suspension with coil springs and rear coil spring suspension. Larger one-ton models had rear leaf springs as standard equipment.