Things You'll Need
Hammer

Shallow glass bowl

Charcoal briquettes (or brick pieces or small porous stones)

Mixing Bowl

6 parts Mrs. Stewart's Liquid Bluing

6 parts water

8 parts salt

1 part ammonia

Food coloring (optional)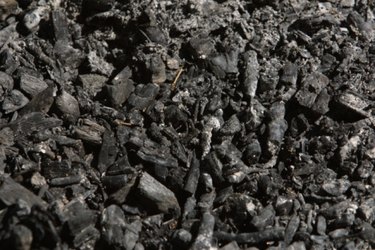 The process of growing crystal flowers using coal as a base originates in early American society. According to The American Coal Foundation, "the making of coal flowers is a historic craft that was practiced by coal mining families in the late 1800s and early 1900s. When mining families had little money to buy decorations or purchase toys, they used common household products and coal to make beautiful crystal flowers." The coal provides a porous material from which the crystals grow. This project provides as interesting results today as it did 200 years ago.
Step 1
Break up the charcoal briquettes into roughly 1-inch chunks. Use a hammer, but don't pulverize the charcoal.
Step 2
Arrange the briquettes in the glass bowl in an even layer.
Step 3
Combine the Bluing, water, salt and ammonia in the mixing bowl, and mix them well. Some salt will remain in the bottom of the bowl.
Step 4
Pour the combined mix over the coal pieces, including the extra salt.
Step 5
Add food coloring on top of the mixture as desired. Any spots that are not colored will grow white crystals.
Step 6
Sprinkle 2 tbsp. extra salt over the entire charcoal crystal bed. Wait two days.
Step 7
Combine 2 tbsp. each of the Bluing, ammonia and water, and pour the mixture over the pan of charcoal. Do this again on day three.
The crystals begin growing within a few hours of the creation of the project and will fully form in two to three days up to a couple weeks.
Tip
Mrs. Stewart's Liquid Bluing can be hard to find in stores. Check drug stores, and online outlets. Circulating air helps the crystal growing process. The drier the growing space, the better the crystals will grow. Keep your garden growing by continuing to add a mixture of ammonia, Bluing, salt and water. Position pipe cleaners in and around the coal, and the crystals will grow up the pipe cleaner, building tree-shaped formations. Add toothpicks, twigs, paper, cloth or string to the charcoal base to create different shapes for the crystals to grow onto. Any porous material can be used to grow the crystals. Try brick, cork or sponges, in addition to the coal or charcoal.
Warning
Bluing can be harmful to skin, eyes and if ingested; use with caution. Ammonia is irritating to the eyes, nose and throat. Persons with lung issues should also be wary of inhaling ammonia; it is classified as an inhaled irritant.