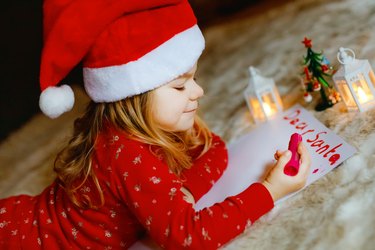 Things You'll Need
Red sweat suit - top and pants

Two rolls of white faux fur

Shears

Needle and thread or glue gun

1-2 rolls of cell foam padding

Black buckle belt

Black rubber shoes

White beard

Santa hat

Makeup brush

Rosy-red highlights

Red velvet or felt bags
Christmas is a special time for both kids and grown-ups. To make the holiday season more festive, let your child dress up in his or her very own kid Santa outfit. You don't have to go to a costume store to purchase a brand new Santa costume. Instead, you can put together Santa's merry ensemble simply by using a red sweat suit and adding a few extra accessories to make kid Santa look more realistic.
Step 1: Red Sweat Suit for Your Kid Santa Costume
Purchase a small- to medium-sized red sweat suit, or according to the child's size to serve as the base for your kid Santa Costume.
Step 2: Trim Off the Cuffs
Cut off the cuffs of the sweatshirt with sharp sheers. Also remove the elastic liner around the base of the sweatshirt with scissors.
Step 3: Replace the Cuffs With Faux Fur
Replace the cuffs and the sweater's entire elastic liner with a strip of white faux fur. With measuring tape, measure the faux fur so that it is 3 to 5 inches in width. Use a heat gun or sew the faux onto the cuffs and liner with needle and thread.
Step 4: Vertical Faux Fur Strip
Center another piece of faux approximately 10 to 14 inches, in a vertical fashion on the front of the sweater. Heat glue, or sew it in place. Allow the last 3 inches of the faux fur to dangle below the sweatshirt.
Step 5: Give Kid Santa Some Stuffing
Add padding underneath the child's undershirt before placing on the sweat suit. Wrap cell foam padding, which can be bought from a craft's store, at least 10 inches thick around the waist of the child to produce girth around his midsection.
Step 6: Check the Shirt for Size
Have the child put on the sweatshirt when you are comfortable with the size of the girth.
Step 7: Put On Pants and Belt
Place the pants on and wrap a thick, black buckled belt around the waist, over the girth and faux fur strip. The belt should cover the elastic portion of the pants.
Step 8: Add Santa's White Beard
Place on Santa's white beard. Use the elastic band to secure it over his ears and adjust if needed.
Step 9: Add the Santa Hat and Boots
Top the child's head with a red Santa hat. Allow the child to step into the black rubber boots.
Step 10: Makeup for Kid Santa's Face
Add makeup to the face. Dab a little rosy-colored highlight makeup on a makeup brush. Mark the nose with the color to give Santa a healthy blush. Blend in the color with fingers so that the nose looks flush. Blend to the maximum effect red highlight underneath the eyes and over the cheekbones.
Step 11: Complete the Santa Outfit
Complete kid Santa suit with a large, red velvet bag full of foam padding or gifts.