Things You'll Need
Scrapbooking paper for the background

Coordinating paper

Craft punch or long-reach craft punch

Pencil

Adhesive

Scissors or paper cutter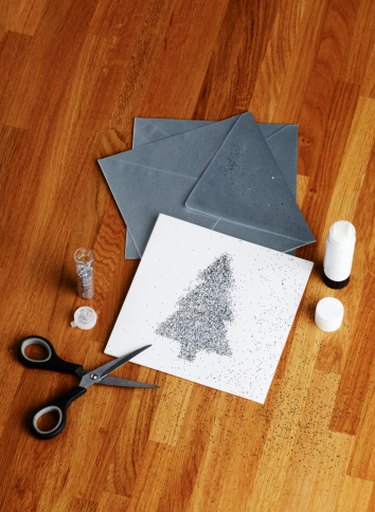 Craft punches are a popular tool among paper crafters, both for their versatility and ability to quickly add interest and detail to cards, scrapbook pages and other craft projects. Craft punches come in a variety of shapes and sizes and are generally used to quickly and cleanly cut shapes from paper. Most craft punches have a short reach and are designed for cutting shapes and designs from the edge of the paper. You can create the illusion of punching in the middle of the page using a regular punch, or you can use a long-reach craft punch.
Creating the Illusion of Punching the Center of a Page
Step 1
Choose your background paper. Using a second sheet of identical paper, cut a square large enough to accommodate your punch.
Step 2
Slide the small square of paper into your punch. Double check your placement.
Step 3
Place the punch and paper on the table. Firmly press the punch lever to cut the shape from the paper.
Step 4
Cut another square from your choice of coordinating paper. This scrap should be the same size as the first square of paper.
Step 5
Glue the coordinating paper to the piece with the punched shape. The coordinating piece will show through the punched area.
Using a Long-Reach Craft Punch
Step 1
Design your page and determine where you would like to use the punch. Mark the spot on your paper where you wish to use the craft punch using a pencil.
Step 2
Carefully slide the long-reach craft punch over the paper and position the cutting area over the area that you wish to punch. Double check the placement; once you punch the shape into the paper, you cannot move it.
Step 3
Place the punch and paper on the table and firmly press the punch lever. Be sure that your hand is not under the punch, as the cutting surface is very sharp and can injure you. Remove the paper from the punch.
Tip
You can also punch the center of a page without a long-reach punch if you fold the paper in half and position the punch over the fold. However, this method will leave a crease in your paper, which may be undesirable. This method also requires carefully placing the punch halfway over the fold to achieve a single symmetrical cut. If you place the punch all the over the fold, you will punch two shapes.
You can find long-rreach craft punches at craft and hobby or specialty scrapbooking stores.