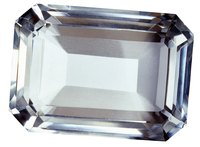 Most pieces of paper come in a rectangular shape, but if you need to transform a plain rectangular piece of paper into a diamond shape, you can do it with just a few folds and a single cut. Use the diamond-shaped piece of paper to embellish a scrapbook page, or make diamond-shaped pieces of construction paper for your children to use when making craft projects.
Things You'll Need
Rectangular sheet of paper
Single Diamond
Fold the rectangular sheet of paper in half.
Fold the sheet in half again.
Cut the folded sheet of paper diagonally from one corner made up of a folded edge and an open edge to the other corner made up of a folded edge and an open edge.
Unfold the sheet of paper to reveal a diamond shape.
Multiple Diamonds
Accordion fold a sheet of paper. The direction doesn't matter.
Fold the accordion-folded piece of paper in half.
Cut the paper diagonally from one of the corners along the folded short end to the opposing edge of the paper. The wider the angle is, the taller your diamond will be.
Unfold the cutout piece to reveal several diamonds. You may have some half diamonds--discard those.