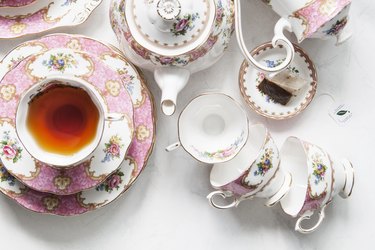 Tea sets can be collected, used for decoration, or used during a special occasion. Those that are antiques are usually not used on a regular basis, but are to be admired. The age of a tea set can be told through several factors including stamps, symbols and numbers. Collectible tea sets have been made all over the world. Some companies built a reputation on designing beautifully elegant pieces that are to be cherished by any collector and can be worth a large amount of money if they remain in good condition.
Determine the Country of Origin
Analyze where the tea set was made. Some collectible tea sets will have a stamp or hallmark from what country the set was made in, while others may use letters or words. For example, tea sets made in Mexico after the 1970s used the letter "T" to represent their country and the word "plata" can be found on older model tea sets. Tea sets made after 1891 in other countries will have the country it was made in marked on the bottom such as Italy or Spain. McKinley Tariff Act of America requires all imports to be labeled what country it was made in.
Analyze Designs and Styles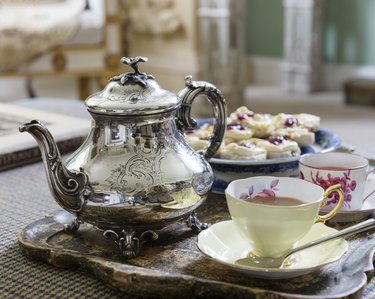 Examine designs of the tea set. Companies that make tea sets have specific types of designs for several years before changing it to another design that helps indicate an approximate tea set age. Lawleys china tea sets have Rockingham styles that indicate it was made between the 1920s and 1950s. Trimont China Occupied Japan used floral designs with a touch of gold trimming in their tea sets from 1946 to 1952.
Look at symbols on the bottom of tea sets. Not all tea sets will have symbols, but many companies such as Capodimonte use symbols as their mark. Capodimonte began in Italy and used blue crowns as their tea set marking before 1896, changing to crest and wreaths under the blue crown after 1896.
Look For Handwritten Markings
Examine writing on the bottom of the tea set. If there are handwritten marks, the tea set is made before the 1800s, before stamping was used. If the tea set has a stamped logo, lettering and/or numbers that are not blue, the set was made after 1850. Any tea set with a logo or trademark is made after 1862. Tea sets with Ltd. or Limited on the bottom states it was made after 1860.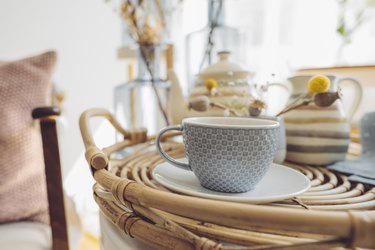 Look at the numbers on the bottom of the tea set. Numbers represent the code of the manufacturer, a pattern number or its registration number. The number will have "rd" following it if it is the registration number. The number is an important piece in identifying tea set age as you combine all of the previous steps.
Tip
Around 5,000 years ago the Chinese discovered the joys of drinking tea and served it in tiny bowls that held only two or three teaspoons of the jade-colored liquid. This practice spread to Europe, where the diminutive bowls were replaced with larger containers which held four ounces of liquid. Someone thoughtful added rounded handles – and so the teacup was born.