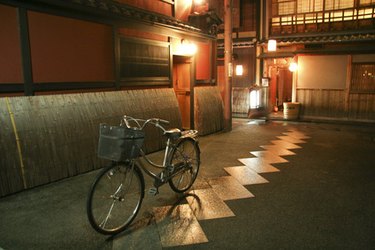 China made in Japan can hold many bearings. According to Japanese ceramics historian, Jan-Erik Nilsson, common identifiers are "Good Luck," "Made in Japan," "Happiness," "Nippon" and plain, "Japan". However, in the absence of these marks, Japanese china can be identified by experts according to embossed names which may represent a Japanese factory, importer, exporter, designer, potter or even customer. One company may be responsible for over 400 marks. To know the marks is to know the origin of and time frame in which a piece of china was made.
Step 1
Look for manufacturer import marks on Japanese china. Read the marks from top to bottom and from right to left. Look for the Japanese words for "made": "tsukuru," "Sei" and "saku." Look for the Japanese words for "drawn" or "painted" including "Dzu," "Fude" and "Ga". Learn the names of Japanese porcelain and pottery makers such as Seto, Kutani, Satsuma, Kyoto, Bizen, Banko, Awaji, Soma and Arita. Know the differences in the china. Satsuma china is ivory colored with artisan pictures. Kutani porcelains have elaborate pictures lavishly decorated in gold, red and blue. Unglazed china may be made by Banko and Bizen ware is characterized by funny images of nature. Soma pottery feature horses and Awaji is known for the use of bright green and yellow glaze.
Step 2
Learn Japanese lettering. Translate manufacturer marks. AA Vantine and Company manufactured and sold china out of Yokohama, Japan. Their mark is the Imperial Chinese and Japanese flags crossed with the Turkish crescent moon and star in between them. Aerozon china features the two Japanese characters for the words, "nichi" and "hon". Porcelain made at Arita mainly has Japanese characters for family names like "Aoti," "Zoshuntei Sanpo" and "Saishintei Keiko". The Noritake company used a mark that looks like a cherry blossom.
Step 3
Recognize imports made from 1945 to 1952. China made in Japan during these years will be marked differently because at that time Japan was invaded by United States forces. The marks are "Made in Occupied Japan" and "Occupied Japan". According to Occupied Japan, these marks were provided for American consumers who believed that purchase proceeds would repay war reparations. Predominant patterns in china made in Japan during this time included roses, chintzes, violets and pansies. According to historian Cathy Anderson, manufacturers from 1945 to 1952 include Aladdin, Chubu, Cherry, Fleur de Lis, Kipp Ceramics, Saji, Berkshire, Diamond, Wako, Jyoto, Fen Toi, Mikado, Aldine, Princess and Castle.