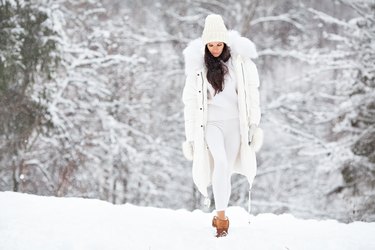 A white puffy coat is a wonderful choice for winter outerwear. Its color is a neutral classic befitting the season, and the puffer style offers unrivaled comfort and warmth. When it comes to washing a winter white puffy coat, however, you might find yourself perplexed. That crisp white color shows every grubby mark and only looks its best when freshly cleaned, but the down-filled style is a laundry head-scratcher. Fortunately, with the right techniques and cleaning products, you need not worry about stains, de-puffing or other potential damage to a white puffy coat.
Spot cleaning should be your go-to method whenever you see dirty marks on a white puffy coat. The agitation and detergents used in machine washing can gradually wear down the insulation inside a puffy coat and shorten its life span, so keep it clean with spot cleanings in between just a few full washes per season.
It's best to invest in a special down wash designed for laundering down and down-alternative items. Otherwise, choose an all-natural, gentle or sensitive laundry soap. Apply the soap directly to stains or marks on the coat, let it sit for 10 to 15 minutes and then rinse clean with warm water. Pat the spot-cleaned area dry with a soft white towel and let it finish air drying away from sunlight.
Hand washing a puffy coat is the gentlest way to clean and freshen the entire coat, as it involves considerably less agitation than machine washing. To do so, fill a sink or tub with warm water and add a dash of down wash or gentle, all-natural laundry detergent. Close the zipper and any pockets and flaps on the coat and plunge it into the warm, soapy water. Gently swish and turn the coat around in the soapy water for a few minutes and then let it soak for 10 to 15 minutes.
Drain the soapy water and rinse all the soap out of the coat. Fill the sink or tub with plain water, swish the coat around, drain and repeat until all traces of soap are gone. Squeeze out as much water as you can by hand but avoid lifting the coat while it's soaked, as the weight of the water might stress the seams and fabric.
Machine Wash a Puffy Coat
If the care label on your puffy coat says it's safe to machine wash it, do so only when needed. Otherwise, opt for hand washing. Also reconsider machine washing a puffy coat if you have a top-loading washer with a central agitator, as this type of machine can be too harsh. Wash the coat with all the zippers, pockets and flaps done up.
Machine wash a puffy coat with a small amount of down wash or all-natural, gentle detergent. Use a cold water, delicate cycle and wash the coat alone without any other items. If possible, run the rinse cycle twice, as any remaining detergent can damage the down or down-alternative filling.
It can be tempting to use bleach on a white puffy coat, but it's not recommended. Bleach is too harsh for the down or down-alternative filling inside a puffy coat.
The Best Way to Dry a Puffy Coat
After washing, you can either machine dry or air dry a puffy coat. Unlike machine washing, puffy coat manufacturers recommend machine drying as the best method. Only use low heat and run the machine until the coat is fully dry. Expect this to take several cycles. Add several clean tennis balls or dryer balls to the machine to help fluff up the coat as it dries. Additionally, take the coat out of the machine every 30 minutes or so and give it a good shake, which also helps re-fluff the filling.
To air dry a puffy coat, lay it flat on top of a towel or drying rack and leave it undisturbed and out of direct sunlight. When the coat has fully dried, shake it vigorously to re-fluff the filling.