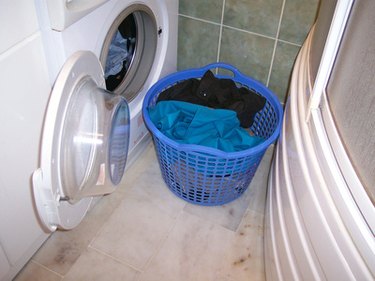 Columbia sportswear is top-of-the-line outdoor wear. This United States-based manufacturer offers a range of jackets, from waterproof rain jackets to fleece insulated winter coats. When used properly during hiking, camping and other outdoor endeavors, Columbia jackets should get good and dirty. When it comes time to clean your Columbia jacket, take time and patience to care for it properly.
Things You'll Need
Brush

Rag

Mild detergent

Washing machine

Flat surface
Step 1
Read the care instructions tag of your Columbia jacket before doing anything. Each material has different needs when it comes to cleaning. Follow the instructions listed on the jacket for optimal results.
For most jackets, Columbia suggests to machine wash in warm or cold water. Columbia also suggests using a "mild, low-phospate, powdered laudrey detergent." In addition, they urge customers to rinse twice.
Step 2
Use a brush to remove caked on dirt from the outside of your jacket before beginning a wash cycle.
Step 3
For dried-on stains, dab a bit of mild detergent on the stain and rub gently. Columbia advocates the use of stain removers like Spray 'n Wash, but warns against using products that contain bleach.
Step 4
Add detergent to the washing machine. Set the water temperature according to the jacket's care instructions. Turn the machine on casual cycle and let it run.
Step 5
Take the jacket out of the washing machine and lay flat to dry to avoid shrinking. Some Columbia jackets can go in the dryer on tumble-dry low. However, it is always safer to line dry or lay flat to dry.
Warning
Columbia Sportswear warns not to iron or dry-clean any garments.
Never use bleach or harsh detergents when washing your Columbia jacket.