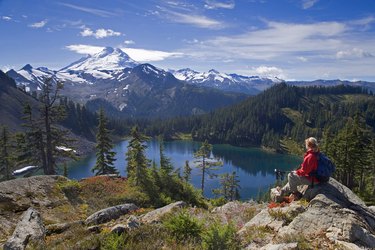 Established in San Francisco in 1966, North Face produces an extensive selection of jackets and other outerwear for hikers, skiers, backpackers and other outdoorsy folks. The company utilizes waterproof, breathable fabrics such as Gore-Tex and HyVent for many jackets and goose down or Thermoball down alternative for extreme cold. Extend the life of your North Face jacket by cleaning it according to its type.
Gore-Tex
Regularly washing a Gore-Tex jacket helps to maintain its Durable Water Resistant (DWR) coating. Use a mild powdered laundry detergent since liquid detergent may leave residue that interferes with the garment's water-shedding ability. Wash the jacket in a machine using the gentle cycle and cold water. Run it through the rinse cycle twice to ensure that all detergent is completely removed, then dry the jacket on the dryer's low heat setting. Never use bleach or fabric softener on a Gore-Tex jacket and never dry clean.
HyVent
Wash HyVent jackets as often as needed to remove build-up of sweat, campfire smoke and other stains or odors. Add liquid detergent to your washer and set on the gentle cycle. Run the jacket through the rinse cycle twice to so that all traces of detergent are washed out. For extra soiling, first soak it in a solution of warm water and detergent. Avoid bleach and stain removers.
Goose Down
Goose down is delicate and requires special care. Use only a front-loading washing machine -- the agitation in a top-loader may damage the coat. Wash in warm water on a gentle cycle with mild, bleach-free powdered detergent. Rinse twice, then run the jacket through the spin cycle twice to remove excess water. Lift the jacket carefully from the machine, holding it at the bottom to support the weight. Tumble dry on a no-heat setting and add a couple tennis balls to keep the feathers from clumping.
Thermoball
Thermoball is a synthetic alternative to down. According to North Face, Thermoball packs and feels like down and keeps the wearer warm even when the garment is wet. Thermoball should be washed in warm water and a gentle powdered detergent. Tumble dry the jacket with a couple of tennis balls to restore the loft.