Hand fans can add colorful style and elegance to your home décor. Asian, Spanish and Victorian hand fans often have delicate designs and embellishments to fit the motif or period. You can create decorative wall art, centerpieces, headboards and table top displays using one or more hand fans that suit your decorating style. Some hand fans tell a story, others are a combination of colors and patterns. Open the hand fans fully to best display the designs.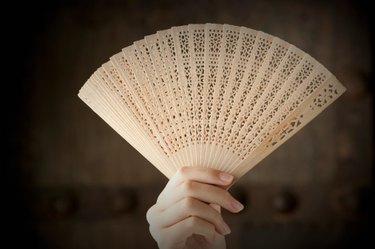 Things You'll Need
Shadow Box Frame

Self-Adhesive Interlocking Strips

Small Screwdriver
Framing the Hand Fans
Step 1
Remove the small screws from the edge of a shadow box frame. Remove the edge piece. One medium size shadow box frame will accommodate one open hand fan; select larger shadow box frames if you plan to display several hand fans.
Step 2
Slide the backboard from the frame. Place it face up on a flat surface. Arrange the open hand fan or fans on the backboard. Shadow box backboards are covered with felt.
Step 3
Attach small strips of self-adhesive interlocking strips to the two corners of the backside of the open fan and along the back of the hand grip. Remove the protective backing from the strips and press the fan in place against the felt backboard.
Step 4
Reinsert the backboard into the shadow box frame. Replace the wood strip on the edge and fasten the screws.
Decorating Ideas
Step 1
Hang a single, framed hand fan in a shadow box on the living room, bedroom, bathroom, hallway or kitchen wall. Place the frame above an occasional table with knick-knacks that coordinate with the fan style. Line several single fans in frames along a hallway wall or create a grouping behind the sofa in the living room.
Step 2
Frame three to six hand fans in a single, large shadow box horizontally. Hang the shadow box behind a twin or double bed as the headboard. You could also hang two or more shadow box frames vertically, side-by-side behind any size bed to display a hand fan collection.
Step 3
Display a framed hand fan face up on a table top as part of a centerpiece. Flank the fan with candles or short vases filled with flowers.
Tip
Cover the felt backboard with more decorative fabric if you like. Spray adhesive works well to attach new fabric to the felt.