Things You'll Need
Peeled potato, sliced in half

Baking soda, salt or mild scrubbing cleanser

2 tbsp. chlorine bleach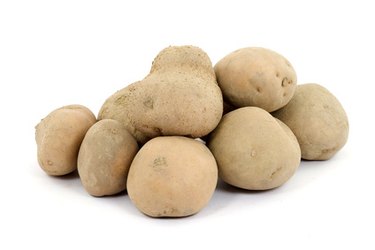 In 1830, a craftsman developed porcelain enamel cookware by casting porcelain enamel over iron. The resulting cookware had a smooth finish that resisted scratches and didn't retain food odors. Today, porcelain enamel cookware remains popular. Harsh abrasive cleansers and steel wool may cause permanent scratches in the surface of the enamel, attracting dirt and grime and making cleaning more difficult. Gentle cleaners, such as baking soda, mild dish washing soap and a plastic scrubbing pad are recommended by the Michigan State University Extension.
Step 1
Dip the flat surface of a sliced potato in a mildly abrasive powder, such as baking soda, salt or a gentle cleanser.
Step 2
Rub the potato firmly over the rust stains until they are gone.
Step 3
Rinse and dry the roasting pan before storing.
Tip
Hand wash your enamel roasting pan in warm, soapy water. Remove tough food stains by filling the pan with 1 quart water and 3 tbsp. baking soda. Heat the mixture gently on the stove.
For tough food stains, such as coffee or tea, mix 2 tbsp. chlorine bleach with 1 quart water. Fill the roasting pan with this mixture and soak for 20 minutes. Rinse thoroughly.
Always dry pans well with a towel to prevent rust.