Turn a pair of interesting old buttons into a set of one-of-a-kind cuff links. The buttons do not even need to match as long as they are similar in size and related in some way. Two buttons in the same style and different colors would make an interesting set of cuff links, as would two buttons which are exactly the same color but different shapes. You may make reversible cuff links with a different button on each side.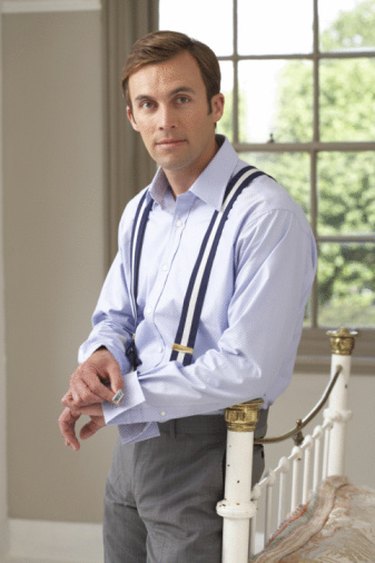 Things You'll Need
Buttons, Shank Or Two-Hole, 2 Pair

Scissors

Glue

Needle

Upholstery Thread
Step 1
Run the end of the thread through one button from each pair. The thread should go through the shank on a shank button or through both holes on a two-hole button. Upholstery thread is a heavy strong thread. It is available at fabric stores.
Step 2
Tie the thread together so that the flat backs of the buttons are 1/2 inch apart. Cut the short end of the thread off 1/4 inch from the knot. Do not cut off the long end of the thread
Step 3
Wrap the thread smoothly around the loop of thread between the buttons. If the buttons are two-hole buttons start wrapping very close to the back of the button. If they are shank buttons, start just at the end of the shank. Wrap so that the threads lie next to each other without overlapping. Wrap one layer of thread from one button to the other.
Step 4
Cut the thread eight inches from the last wrap. Thread a needle onto the thread. Run the needle back through the center of the wrapped thread and pull the thread through the wrap to secure it. Cut off the extra thread.
Step 5
Place a drop of glue on the cut end of the thread to secure it. Make the second cuff link in the same way.
Tip
If using a two-hole button be sure the color of the thread matches or enhances the color of the button.
Warning
Test the size of the buttons to be sure at least on button on each cuff link will fit through the button hole on the shirt cuff. The other button can be as large as you like. Use your good taste, 1/2 to 3/4 inch is a good size. Both buttons should be large enough to hold the cuff link securely in place, at least 3/8 inch.