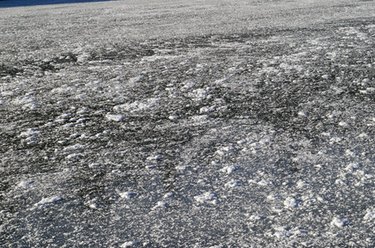 For some people, decorating their home for the holidays is a challenge to be faced, fought and slain. If this describes your outlook, why not consider a fake pond display for Christmas? These extraordinary large and small exhibits can send Christmas decorating schemes over the top. They can be the centerpiece of your plans, will look fantastic and can outshine your neighbors or impress family and friends.
A Fake Pond Display for Christmas
You can picture it now: On the center of your lawn, there's a fake pond display for Christmas surrounded by lights, featuring a sign saying "North Pole" in the back with two friendly, lit-up characters standing on top. Surprisingly, this pond is not hard to make. You'll need a large piece of Styrofoam that you can spray paint blue.
Cut it into the shape you want and secure it to the ground with a few heavy rocks. Attach Christmas lights to its perimeter. Then, you can place a heavy Christmas decoration on top, like a penguin or snowman, to keep it weighed down, removing the rocks if desired. Inflatable decorations may not be enough to hold down the fake pond.
Creating a Small Fake Pond
On the opposite end of the spectrum, you might want to create your fake pond display for a miniature Christmas Village. This added touch can make Christmas villages look cold and frosty. It is best to first sketch out your idea on a piece of paper; irregular shapes look more realistic.
Once you have your design down, replicate it on an old piece of plastic. Tupperware and other plastic container lids work well for this. Use a utility knife to cut through this kind of thin plastic but be sure to work slowly and carefully so you don't cut a finger. Once you have cut out your shape, paint it deep blue and let it dry.
Once the paint is dried, you can paint some glue onto the top. Choose a clear one, like PVA glue, and cover the mini pond with it. Then, scrunch up a small piece of plastic food wrap and stick it to the glue, keeping the texture uneven to mimic shiny, rippled ice. You can also sprinkle on some sand or fine gravel around the edges along with a few small rocks here and there.
Allow your fake pond to dry for a few days, and if you see any surface bubbles, you can pop them with a pin. Apply a second coat of clear glue, sticking on some dried moss or fake grass around the pond. You can also attach figures, like ducks, geese or people congregating nearby on a little bench. Another option is to cover the plastic cut-out pond with foil instead of plastic wrap. This way, you won't have to worry about painting it. Companies also make small, mirrored ponds that you can buy for your Christmas village.
Consider another idea for a miniature fake pond display for Christmas that you can use in a Christmas village or elsewhere as part of your holiday decor. For this DIY craft, you'll need an old round cake stand with a matching glass cover, figurines, small bottle-brush trees, hot glue and fake snow. Glue the mirror to the base of the cake plate and then glue on the figurines (skaters, if you can find them) and trees. You can add as much fake snow as you want to the glass surface.