Things You'll Need
White turtleneck or sweatshirt

Circle-shaped sponge

White tube sock

2 white ankle socks

Black fabric paint

Paper plate

Needle

Thread

Stuffing

White headband

Wide jewelry collar or ribbon

Small paint brush (for drawing fine lines)

Fabric paint (any color)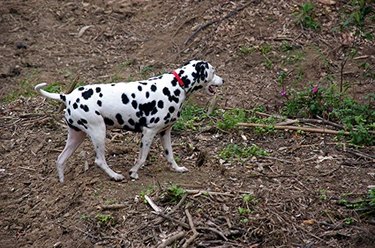 A dalmatian costume from the movie "101 Dalmatians" can be made for children of any age and, with its long sleeves and pants, can help trick-or-treaters stay warm in cooler climates. Children can choose the name of their favorite dalmatian and help make the spot pattern that matches that dog. Because fabric paint is permanent, only clothes you don't need any longer should be used.
Step 1
Wash and dry the shirt and pants.
Step 2
Pour black fabric paint onto a paper plate.
Step 3
Lay the shirt, pants and socks on flat surface.
Step 4
Dip the sponge into the black paint. Wipe off excess paint on the plate.
Step 5
Press the sponge onto the fabric and lift straight up. Repeat until you have spots all over the items. Re-dip the sponge as needed. Allow one side to dry before doing the other.
Step 6
Stuff the tube sock with stuffing. Leave the top 2 inches empty.
Step 7
Sew the top of the tube sock closed. Sew the tops of the two ankle socks closed.
Step 8
Sew the two small socks to the headband to form the ears.
Step 9
Sew the top closed end of the tube sock to the rear of the pants.
Step 10
Lay the wide jewelry collar or ribbon on a flat surface. Paint the name of the dog on the collar using the small paint brush. Let dry.