Things You'll Need
Microwave

Microwaveable bowl

Saucepan

Stove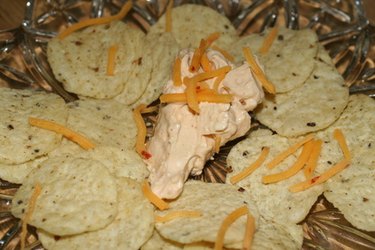 Queso is the Spanish word for cheese and a popular ingredient in dips. Queso dips are typically served hot; queso once heated and cooled becomes hard and difficult to dip tortilla chips into. Other food options for dipping into the melted queso include strips of red bell peppers, garlic bread toast and apple slices. This dish can be presented as an appetizer to a meal, a midday snack or served with chilled beverages during a party.
Add heat
Step 1
Scoop one cup of queso into a microwaveable safe bowl and place in the microwave for one minute. Do not fill the bowl all the way as heat from microwave may cause the cheese to bubble. If your cheese begins to bubble, remove from microwave, stir and resume heating.
Step 2
As an alternative to microwave heating, heat queso on the stove. Take a small saucepan and place it over a heated burner on top of a stove. Pour the cup of queso into the saucepan. Keep the burner on low heat or you will burn the bottom of the cheese. Continually stir the cheese for five to 10 minutes to prevent from burning and allow for even heating.
Step 3
Once the queso is thoroughly hot, pour it into a dish and serve alongside tortilla chips. Tostitos makes a popular brand of chip called Scoops which are designed to hold more dip on the chip. A popular way to serve melted queso is mixed in a bowl with salsa, equal parts of each.
Tip
While melting, whisk in two tablespoons of milk to create a thinner consistency.