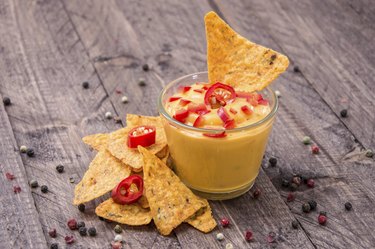 Start to Finish: 10 minutes Servings: 4 to 6 Difficulty Level: Beginner
Most cheddar cheese sauce recipes use a base of butter, flour and milk. But since dip made this way starts to congeal and thicken soon after cooking, it's not the ideal method. Using evaporated milk, in a recipe inspired by Serious Eats, leads to sauce that's glossy and dip-worthy -- as well as tasty -- well after it comes off the heat.
Ingredients
12 ounces sharp cheddar cheese, not pre-shredded
1 tablespoon unsalted butter
1 tablespoon all-purpose flour
1 can evaporated milk, 12-ounce
1/2 teaspoon Dijon mustard
Salt and pepper to taste
Directions
Shred the cheese using a box grater. Pre-shredded cheese has a coating that doesn't allow it to melt as smoothly as a block of cheese will.
Melt the butter in a saucepan over medium heat. Add the flour. Stir the two together with a wooden spoon until the mixture -- called a roux -- turns golden brown, about 1 minute.
Pour in the evaporated milk, a few tablespoons at a time. Whisk the mixture after each addition until it is smooth and free of lumps.
Remove the pan from the heat. Add the cheese and give the mixture a stir. Let it sit for a minute or 2 to allow the cheese to fully melt.
Stir the sauce again. If it's too thin, add more cheese; if it's too thick, add more evaporated or plain milk.
Add the mustard and a pinch each of salt and pepper. Taste the sauce and add more seasoning if necessary.
Flavors to Try
One simple way to give your cheese sauce more complex flavor is to use multiple cheeses. Even a half-and-half mix of mild and extra-sharp cheddar will give the sauce a different bite than you'll get by using just sharp cheddar. Substituting spicy pepper jack, mild Monterey Jack or smoked Gouda or provolone for some of the cheddar creates layers of flavor that will leave your crowd guessing what's in the sauce.
Add minced jalapeños, a dash of hot sauce or a cup of salsa to the finished sauce if you crave heat. You might also try adding in a pinch of nutmeg, cumin or chili powder or crumbling smoky bacon into the finished sauce.
Uses for Cheese Dip
Cheddar cheese sauce is more than just dip for nachos and french fries or a way to make broccoli palatable to picky eaters.
Combine it with cooked macaroni to make mac and cheese that beats the store-bought stuff.
Serve it as fondue and dunk pretzels, veggies and skewered chunks of cooked ham and chicken in it.
Spoon it over scrambled eggs and biscuits.
Pour the sauce over a loaded baked potato.
Make mashed potatoes with half the butter and milk called for in your recipe, then mix in enough cheese sauce to get the potatoes to your desired consistency.
Drizzle the sauce over a bowl of hot tomato soup or over a bowl of pasta with roasted tomatoes.