Things You'll Need
1/2 package (4 oz.) cream cheese

1 cup sharp cheddar cheese, cubed or shredded

1/8 cup Monterey Jack cheese, cubed or shredded

2 cups milk

1 Tbsp. hot sauce

2 Tbsp. flour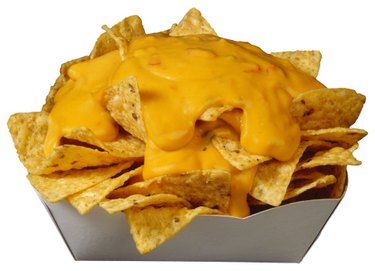 Nachos topped with hot, liquid cheese are a favorite American snack often served at sporting events or movie theaters. Unlike those liquid cheese sauces that are usually prepackaged and contain unnatural ingredients, you can make your own cheese sauce at home using totally natural ingredients such as cheddar cheese and milk. Use your homemade liquid cheese as a delicious addition to nachos, tacos, burritos, burgers or even a fondue-style dip for breads, meats and vegetables.
Step 1
Soften cream cheese in a covered sauce pan over low heat and stir frequently.
Step 2
Once softened, add cheddar and Monterey Jack cheeses.
Step 3
Add flour to 1/4 cup milk in a separate bowl and mix thoroughly. Set aside for later use.
Step 4
Add hot sauce and 1/2 cup milk to the sauce pan. Stir mixture and allow it to melt into liquid form over medium heat.
Step 5
Add remaining milk and mix thoroughly, then add the previously combined flour and milk mixture to the cheese sauce.
Step 6
Allow the liquid cheese sauce to come to a boil, stirring constantly. Once the mixture has reached a boil, continue stirring for one minute before turning off the heat and serving hot.
Tip
For a less creamy liquid cheese sauce, substitute water for milk. The sauce can be stored in the refrigerator in a sealed container for up to a week.