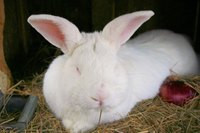 From the Easter Bunny to Peter Cottontail, rabbits are beloved characters. You will want the perfect face paint to go with your ears and tail to pull off your look. The distinctive nose and whiskers will pull your costume together in a sweet and playful way. Whatever the occasion, you'll arrive in true bunny form.
Things You'll Need
Face painting kit
Makeup brushes or cotton swabs
Wash your face thoroughly to remove any oil or makeup. This will make applying your face paint easier.
Apply an even base coat of face paint with a makeup sponge. White is traditional.
Paint an upside-down black triangle on the tip of your nose. Use a clean sponge, a makeup brush or a cotton swab.
Draw a line from the nose to the top of the lips and along the tip of the lip on each side with a makeup brush or a cotton swab to make your mouth. Make the line small for a bunny smirk or wide for a big rabbit smile.
Use a damp makeup sponge to blend red face paint on your cheeks to if you want the effect of a rosy-cheeked bunny.
Draw three to five black whiskers on each side of the face using a makeup brush or a cotton swab. Curl or arch your whiskers for a more personalized look.
Dab two or three black dots around the base of the whiskers on each side of your face.
Highlight your eyes by outlining the top of each eyebrow with black paint using the makeup brush or cotton swab. Use the wet red makeup sponge from your cheeks to add a touch of pink around your eyes.