Things You'll Need
Heavy-duty fabric dropcloths

Professional painter's tape

220-grit sandpaper

Roller frame

Nap roller cover

4-inch paintbrush for latex paint

Satin or semigloss latex paint

Acrylic latex paint

Acrylic enamel

Base primer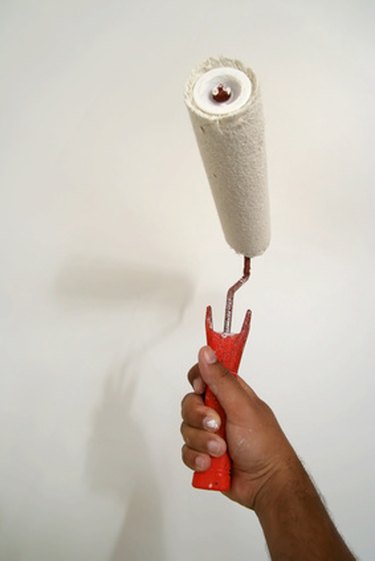 Rollers hasten the paint application process and are ideal for coating textured surfaces, like ceilings and walls. However, if you use a roller on smooth surfaces like plastic, vinyl or wood paneling, you will end up with unattractive roller marks in the finish coat. You can use a roller to generate a slick, professional-looking finish, as long as you employ the proper application strategy.
Step 1
Sand plastic, vinyl and fiberglass surfaces with 220-grit sandpaper to promote paint adhesion. Abrade these surfaces until they have a slightly gritty feel.
Step 2
Cover the flooring under the area you're painting with dropcloths. Apply professional painter's tape to surfaces you don't want painted.
Step 3
Open the container of paint and stir its contents for three minutes, using a stir stick. Pour 2 gallons of paint into a clean 5-gallon bucket.
Step 4
Attach the nap roller cover to the roller frame. Dip the roller cover into the bucket of paint and saturate it with paint. Apply the paint to your surface, covering no more than a 3-foot-square portion.
Step 5
Smooth the wet paint with a wide paintbrush specifically manufactured for water-based coatings. Apply only light pressure and brush in a long, vertical motion. Continue until the entire surface is painted.
Tip
Use satin or semi-gloss latex paint on interior surfaces. Use acrylic latex paint on exterior surfaces. Use an acrylic enamel on surfaces subject to duress.
Warning
Do not paint more than a 3-foot square area at a time, or the paint will start to dry before you can smooth it with the brush. Don't paint fiberglass, vinyl or plastic surfaces unless you have sanded them, or the finish will shed. You should prime bare wood, plastic, fiberglass and vinyl surfaces before you paint, or the finish will peel.