Things You'll Need
Card stock, 12-by 12-inch

Markers

Tissue paper

Craft glue

Clothespins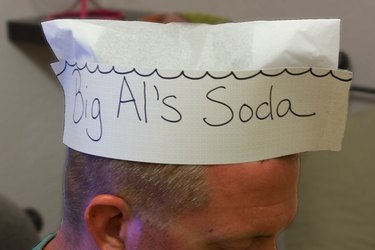 Be a soda jerk for Halloween. In the 1950s, soda jerks worked in drugstores creating fabulous ice cream sodas and sundaes. They were called jerks because they jerked down the levers on the soda fountains to dispense the soda water. They wore rectangular white hats. Early soda jerk hats were often made of cotton fabric. Disposable paper hats imprinted with the store logo became standard in later years.
Step 1
Cut two 12-by-3-inch rectangles from card stock. These are the sides of the hat. If desired, draw the name of the soda shop on the paper with markers or print it out on the computer and paste it on. You can also draw a line of "trim" around the top of the hat.
Step 2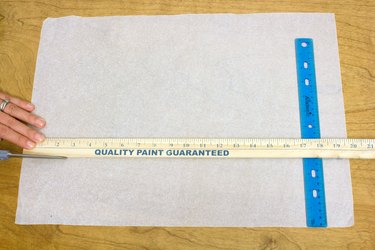 Cut a 17-by-4-inch rectangle from tissue paper. Lay the paper on a flat surface with a long side closest to you. Fold the short sides in 2 inches on each side. Fold the top edge down to meet the bottom edge.
Step 3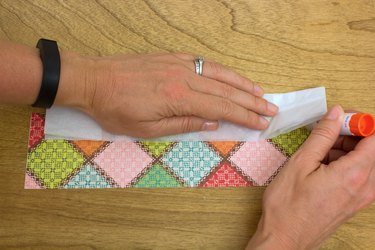 Lay one card stock rectangle face down on the table. Be sure it is right side up. Glue the folded tissue paper to the top of the rectangle. The bottom edge of the tissue should be 1 inch below the top edge of the card stock and the tissue paper should be centered on the card stock, so that there is 1/2 inch of card stock sticking out on each side. Be sure to only glue the bottom layer of the tissue paper to the card stock.
Step 4
Glue the other piece of card stock to the other side of the tissue paper in the same way. Apply glue to the outside 1/2 inch on each short edge of the card stock. Apply the glue on the back side of the card stock. Press the two pieces of card stock together with the edges aligned. Hold the edges together with clothespins until the glue dries completely. Allow the glue to dry for 2 hours before wearing the hat.