Things You'll Need
Beer box

Duct tape

Scissors

Hole punch

Yarn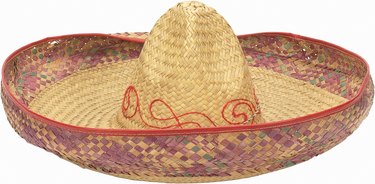 A sombrero is a traditional Mexican hat that you can easily make yourself at home. Though the hats are usually made from felt or fabric, you can make yours using an old beer box for a twist. This is an ideal party craft for an event like a Cinco de Mayo cookout or gathering. The hats can also be used as centerpieces for tables at a party or as part of a Halloween costume.
Step 1
Rip the edges of the beer box apart gently, so the cardboard lies flat.
Step 2
Hold the cardboard over your head and crush it until the center part forms to your head. Wrap a piece of duct tape around the portion over your ears, making the skull part of the hat.
Step 3
Remove the hat from your head and cut around the edge of the sombrero, making the rim of the hat look like a circle.
Step 4
Punch a series of holes around the edge of the hat's rim, making the holes about 2 inches apart.
Step 5
Weave a length of yarn through the holes to mimic the embellishments on a real sombrero.