Baked chicken fillets are one of the most versatile meats when it comes to developing recipes. They can be used in sandwiches, salads, noodle dishes, as pizza toppings or as the main dish in a meal. The fillets can be flavored in dozens of ways and stored in bulk in the freezer. Baking fillets rather than pan frying helps reduce the amount of oil needed to properly cook the meat. A 100g skinless fillet of chicken contains about 116 calories, ranking it among the leanest of available meats.
Things You'll Need
Salt for seasoning

Pepper for seasoning

Foil, cooking spray or vegetable shortening

Baking dish

1 tbsp butter or 1/2 tbsp olive oil per fillet
Step 1
Wash the chicken fillets thoroughly in cold water to remove any slime or surface bacteria. Dry with a paper towel and place on a plate.
Step 2
Line a glass baking dish or tin with aluminum foil to prevent the chicken from sticking to the bottom of the dish and to make clean up more efficient. Grease the pan with vegetable shortening or use cooking spray if you do not have foil.
Step 3
Place the fillets in the baking dish. Spread them out evenly so they cover the entire dish. Fit in as many as you can; they can be packed tightly and rub against each other.
Step 4
Sprinkle the fillets with salt and pepper. Use your fingers or the back of a spoon to rub the salt and pepper into the flesh.
Step 5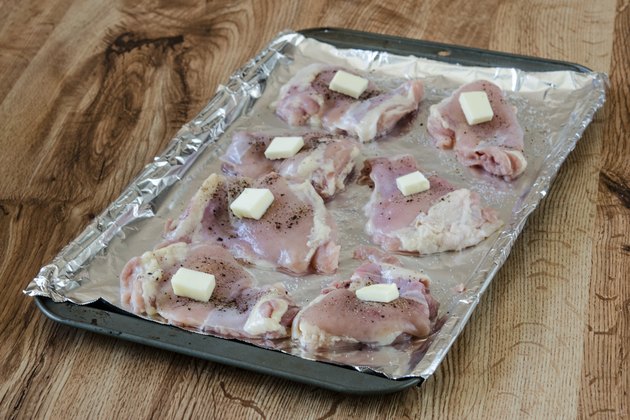 Top each seasoned fillet with small chunks of butter or with olive oil. Apply one tbsp of butter or a half tbsp of olive oil per fillet.
Step 6
Bake the fillets in a preheated 350-degree oven for thirty to forty-five minutes or until the fillets are golden and crusty, and the insides are no longer pink. Test the cooking progress by removing the pan from the oven and cutting into the fillet to determine the rawness of the meat.
Step 7
Let cool slightly and serve or use in a recipe.
Tip
Add seasonings to chicken fillets before baking, such as garlic, curry powder, coriander, lemon, soy sauce, ginger, basil and even barbecue sauce for more flavor.