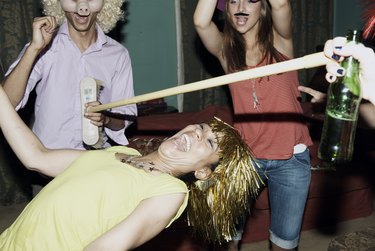 In the 1940s, America fought World War II but its people also danced and entertained themselves with Disney and film noir to take a break from serving the war effort. A 1940s party offers lots of costume, food and beverage ideas and the music is perfect for dancing. Plan your 1940s party in advance to give yourself enough time to decorate and your guests enough time to perfect their outfits.
Step 1
Play decade-appropriate music. In the 1940s, big band was the predominant musical style. Well-known big bands included Benny Goodman and Glenn Miller. Bing Crosby, Frank Sinatra, Ella Fitzgerald and Billie Holiday offer additional music options. Clear a space for dancing to encourage guests to dance.
Step 2
Screen old movies in the background. Black-and-white films ruled the forties. Classic forties movies include "Citizen Kane," "Casablanca," "Going My Way" and "The Maltese Falcon."
Step 3
Decorate using a military theme, old movie posters or USO canteen-style. Walt Disney made several classic films in the 1940s including "Pinocchio," "Dumbo" and "Bambi." Film noir and Westerns were popular movie genres. Hang streamers from the ceiling, use musical instrument decorations and mood lighting, such as holiday lights, for a 1940s feel.
Step 4
Send out vintage invitations. Use a sepia-tone or black-and-white template for a forties feel. Encourage guests to dress in costumes and mention 1940s icons such as Humphrey Bogart, Clark Gable, Ingrid Bergman and Rita Hayworth.
Step 5
Serve popular dishes from the 1940s. Consider hamburgers and hot dogs for a USO-canteen feel and vegetables and crackers with canape spreads such as avocado, crab meat or shrimp cocktail.
Step 6
Stock plenty of liquor for your guests. Cocktails reigned supreme over beer or wine in the 1940s and included old standards like the martini, sidecar, Manhattan, mint julep and Old Fashioned.