Things You'll Need
Wall mount

Drill

Socket wrench and inserts

3/16 inch drill bit

Level

Stud finder

Assistant (optional)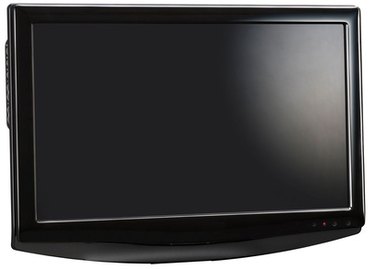 LG flat panel televisions, to many owners and interior designers, look their best when wall-mounted. LG sets support the VESA or Video Electronics Standards Organization mounting protocol. This means that for the installer, selecting virtually any compatible mount is the correct option, depending on the installation requirements. LG TVs offer a variety of size options, all capable of wall mounting. Regardless of the size or installation, LG sets offer slim aesthetics, ideal for wall mounting.
Step 1
Move the stud finder along the intended mounting wall. Locate two studs and mark their locations with the tip of the drill bit.
Step 2
Place the wall bracket half of the wall mount against the wall, in concordance with the marked studs. Drill through at least four of the bolt holes with the 3/16-inch bit.
Step 3
Insert the included lag screws and washers through the wall bracket and into the drilled holes. Tighten them fully using the socket wrench and inserts.
Step 4
Locate the inserts on the rear of the LG set. These are gold-colored threaded metal inserts, designed to accept the included Allen bolts. Align the TV bracket with these inserts.
Step 5
Insert the included Allen bolts through the holes in the bracket, tightening them securely with the included Allen key.
Step 6
Lift the LG set onto the wall bracket, using an assistant if necessary. Align the TV using the level. Tighten any securing set screws using the Allen key, included with the mount.