Things You'll Need
Heavy-duty flat-panel mount

Drill

3/16-inch drill bit

Level

Stud finder

Allen key

Socket wrench

Assistant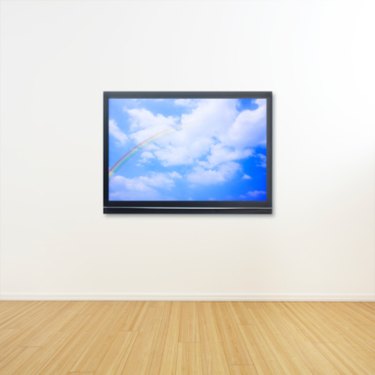 Flat-panel TVs are by far the most popular type of high-definition sets, mainly due to their sleek form and fantastic image quality. Even televisions reaching into the 65-inch range and larger can be mounted to a wall, reclaiming floor space and increasing the perceived size of the set. The way sets of this size are mounted is no different than any other, with the obvious exception that assistance is required in most cases.
Step 1
Find two studs with the stud finder. Hold the wall bracket half of the mount against the stud locations, marking through the bracket holes with the drill bit.
Step 2
Drill out the four holes, one at each corner of the mount. Replace the bracket against the wall.
Step 3
Drive the four included bolts and washers through the bracket, tightening with the socket wrench.
Step 4
Place the TV bracket against the back of the 65-inch flat panel. Align the bracket holes with the threaded inserts on the TV. Drive the included Allen bolts with the Allen key through the bracket into the inserts.
Step 5
Have your helper assist with lifting the 65 inch TV onto the wall bracket.
Step 6
Align the set horizontally with the level, securing the position with the Allen key and the Allen set screw on the upper rear of the TV bracket.