Things You'll Need
Phillips screwdriver (optional)

Flat blade screwdriver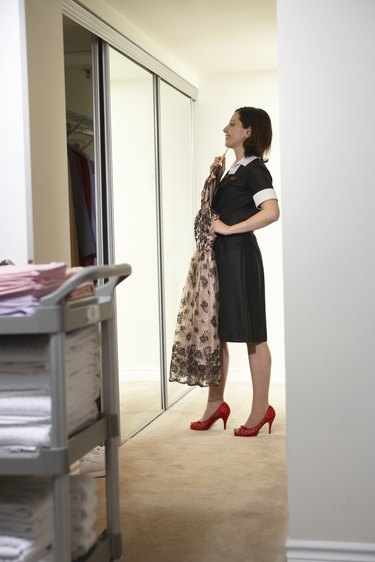 Closet Maid is an American company that specializes in home storage solutions. Closet Maid products are available at many home improvement, hardware and discount stores and are easily installed in your pantry, laundry room, garage or basement. Closet Maid offers many different sizes and lengths of wire shelving that is lightweight yet sturdy. All hardware and shelving can be removed just as easily for painting, repairs or replacement.
Step 1
Remove the retaining screws from each end of the clothes hanger bar by backing them out with a Phillips screwdriver. Lift the bar straight up from the white plastic "J" hooks and place it aside. Remove the "J" hooks by pushing them up from the bottom until they snap free of the shelf, then lower them through the wire supports on the shelf. Skip this step if your shelving does not have a clothes hanger bar.
Step 2
Pry the head of the pin in the wall anchor from the bottom of one of the shelf support brackets with a flat blade screwdriver. Support the shelf with one hand. Remove the shelf support bracket by lifting it straight up and away from the shelf and wall.
Step 3
Continue to support the shelf while removing any remaining shelf supports in the same fashion. Let the shelf rotate downward and rest against the wall.
Step 4
Pull the upper part of the shelf away from the wall until it is released from the wall clips. Remove the shelf from the wall.
Step 5
Remove the pins from the wall clips by prying them out with a flat blade screwdriver. Remove the wall clips from the wall.
Step 6
Pry the wall anchors from the wall where the shelf supports and the wall clips were mounted with a flat blade screwdriver, if desired.
Tip
Other Closet Maid hardware, wall supports and support poles that are used in Closet Maid hanging shelving, kitchen and pantry hardware and laundry room shelving can be removed by following the steps above. Some hardware may be installed with screws rather than pins. These can be removed by backing them out with a Phillips screwdriver.