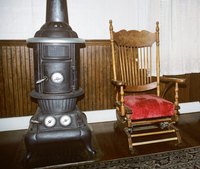 Although wood stoves are not as widely used as they once were, they are still used as heat sources in some homes. They heat more efficiently than a fireplace, but they can pose a safety hazard if proper safety precautions are not followed. In order to protect your home when using a wood stove, it is vital that you install a simple wall shield around the stove to protect your home from fire.
Things You'll Need
Ceramic tile
Cement underlayment
Wood stove
Tile saw
Screwdriver
Screws
Trowel
Tile grout
Tile mortar
Inspect your stove. The legs must place a minimum of eight inches between the bottom of the stove and the floor.
Install the cement underlayment on the walls and floor in the location where the stove will be installed. Pre-drill holes in the underlayment, and screw it down to the existing flooring and wall covering.
Trowel the tile mortar on top of the cement underlayment, making sure that you only trowel a small area at one time.
Install the ceramic tile. When you reach corners where you do not need to lay a full piece of tile, cut the tile to the appropriate size with the tile saw.
Grout the tile, remove the excess with a wet sponge, and allow it to dry for two to three days.
Install the wood stove in the heat-safe area, maintaining a minimum of 18 inches of clearance all the way around the stove.