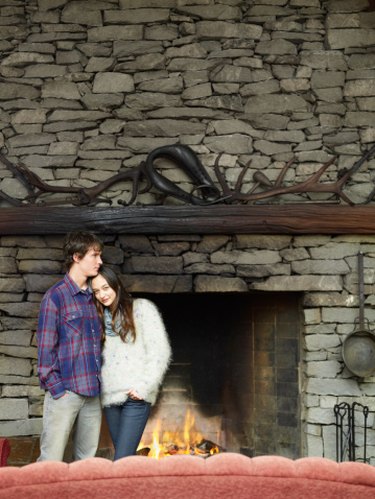 Adding a fireplace to your home can greatly increase its value while giving you an attractive focal point that doubles as a heat source in bad weather. Most modern homes don't have a fireplace, and installing one can be tricky. Fireplace installation costs vary according to region and the type of fireplace you want to install.
Prefabricated Fireplace
Prefabricated fireplaces, also known as fireplace kits, require minimal time and expertise to install. According to Old House Web, prefabricated fireplaces cost between $1,800 and $2,300 installed. The "Atlanta Journal-Constitution" notes that installing a kit yourself takes much longer, but can cost as little as $1,000.
Masonry Fireplaces
Traditional masonry fireplaces require the work of a trained mason, and are accordingly more expensive than kits. A masonry fireplace tends to run between $3,300 and $4,800, depending on the degree of remodeling required.
Rumford Fireplace
Rumford fireplaces are tall, shallow fireplaces built to be more efficient than conventional types. These fireplaces are accordingly more expensive and require more expertise to install. According to the Buckley Rumford Company, the average Rumford fireplace costs between $4,000 and $10,000.