Things You'll Need
Cloth

Template

Quilt pins

Pinking shears or rotary cutter with mat

Thread

Quilt batting

Safety pins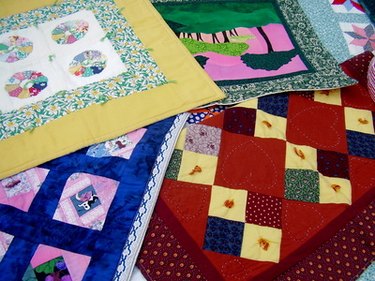 A prayer shawl is made to wrap around the shoulders or draped over the lap during prayer time. It may be given as a gift of love to a person with health issues or special needs of one type or another. It is a symbol of wrapping the individual in prayer, comfort and love. Prayer quilts or shawls are made in a variety of sizes including 45-by-45 inches which is standard for a wheelchair lap robe, 25 -by-70 and 50-by- 80 inches.
Step 1
Buy or choose a pattern template or simple standard patchwork square for the design of the prayer quilt.
Step 2
Pin the pattern template to the cloth or trace the template design on to the back of the cloth.
Step 3
Cut out each individual piece with pinking shears or a rotary cutter on a protective mat surface.
Step 4
Place the pieces on a work table. Arrange the pieces in rows for a rectangle, square or triangular shawl shape.
Step 5
Pin the cloth pieces together for one row of the quilt top using a 1/4 inch seam. Measure accurately to be sure the seam is 1/4 inch. Sew the row pieces together. Pin and sew each individual row together.
Step 6
Sew the rows together to form the quilt top. Press all of the seams flat against the back of the cloth with an iron.
Step 7
Place the quilt top on to the background cloth. Mark the cloth and cut it to fit the quilt top. Mark and cut the quilt batting to fit the background piece with an excess 4 to 6 inches of batting around the entire area. For a lighter quilt omit the quilt batting.
Step 8
Pin the layers of the quilt together at the four corners. Pin the quilt center with safety to secure it. Pin or hand baste around the border of the quilt layers. Hand or machine quilt through the layers of the quilt.
Step 9
Finish the quilt with the choice of border strips with a mitered corner, continuous bias binding or double fold straight grain binding according to C&T Publications quilting basics.